Allianz Football League
Division 1 – Round 1
Dublin 2-17 Kildare 2-10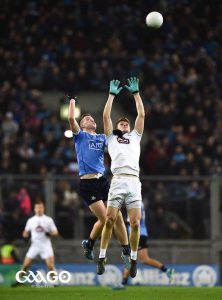 Kildare are back in division 1 but suffered a tough start to their 2018 Allianz Football League campaign after a strong second half performance set Dublin up for a well deserved seven point win.
Kildare started brightly with Neil Flynn opening the scoring within the first minute when he pointed from a free followed by a goal from debutant Luke Flynn in the eighth minute to put them into 1-01 to 0-00 lead. Dublin responded brilliantly with points from Dean Rock (2), Niall Scully and Ciaran Kilkenny to level the game for the first time in the sixteenth minute. Dublin took the lead three minutes later with a point from Bernard Brogan but the teams were level for the second time in the twenty first minute after Kevin Feely converted a free. Daniel Flynn put Kildare back in the lead a minute later with a point from play but once again the teams were level when Ciaran Kilkenny added his second point in the twenty third minute. Paul Cribbin and Brian Fenton traded points before Daniel Flynn put his team back in the lead with his second point from play. Mark Donnellan converted a 5o yard free in the thirty fourth minute send Kildare into half time with a two point lead.
Half Time: Kildare 1-06 Dublin 0-07
First half highlights on the official GAA website ⬇️
Luke Flynn goal ⬇️

It didn't take long for Dublin to be back in the game when Brian Fenton kicked two points from play to level the game in the thirty seventh minute. Mark Donnellan pulled of a great save from a Bernard Brogan goal chance in the forty second minute before Brian Howard pointed to put Dublin in the lead. Goals from Dean Rock and Brian Fenton in the forty fourth and forty fifth minute put Dublin in a comfortable lead and after this they never looked back. Colm Basquel and Niall Scully added points before Kevin Feely pointed from a free but Dublin were now dominating and responded with well worked points from Colm Basquel, John Small and Brian Howard. Substitute Eamon Callaghan added two points from frees to leave nine points between the teams with six minutes remaining. Kevin McManamon and Colm Basquel kicked Dublins last two points before Eamon Callaghan converted his third free. The game was now well over but Daniel Flynn reduced the deficit to seven points when he scored a superb goal in the seventy third minute.
Full Time: Dublin 2-17 Kildare 2-10
Full Time highlights on the official GAA website ⬇️
Daniel Flynn goal ⬇️
Kildare:
Mark Donnellan, Peter Kelly, David Hyland, Mick O'Grady, Johnny Byrne, Eoin Doyle, Cian O'Donoghue, Kevin Feely, Luke Flynn, Fergal Conway, Chris Healy, Paul Cribbin, Neill Flynn, Daniel Flynn, Cathal McNally.
Substitutions:
David Slattery for Neil Flynn, Niall Kelly for Chris Healy (BC), Tommy Moolick for Fergal Conway, Ben McCormack for Luke Flynn, Mark Hyland for Peter Kelly and Eamonn Callaghan for Kevin Feely.
Scorers: 
Daniel Flynn 1-02, Luke Flynn 1-00, Eamonn Callaghan 0-03 (3fs), Kevin Feely 0-02 (2fs), Neil Flynn 0-01 (1f), Paul Cribbin 0-01 & Mark Donnellan 0-01 (1f).
Allianz Football League Roinn 1
| Pos | Team | P | W | D | L | F | A | Pts |
| --- | --- | --- | --- | --- | --- | --- | --- | --- |
| 1 | Dublin | 1 | 1 | 0 | 0 | 23 | 16 | 2 |
| 2 | Galway | 1 | 1 | 0 | 0 | 12 | 8 | 2 |
| 3 | Kerry | 1 | 1 | 0 | 0 | 24 | 23 | 2 |
| 4 | Mayo | 1 | 1 | 0 | 0 | 13 | 12 | 2 |
| 5 | Donegal | 1 | 0 | 0 | 1 | 23 | 24 | 0 |
| 6 | Monaghan | 1 | 0 | 0 | 1 | 12 | 13 | 0 |
| 7 | Tyrone | 1 | 0 | 0 | 1 | 8 | 12 | 0 |
| 8 | Kildare | 1 | 0 | 0 | 1 | 16 | 23 | 0 |