Kildare v Mayo- All Ireland under 20 Football Final
Match Preview by Robert Cribbin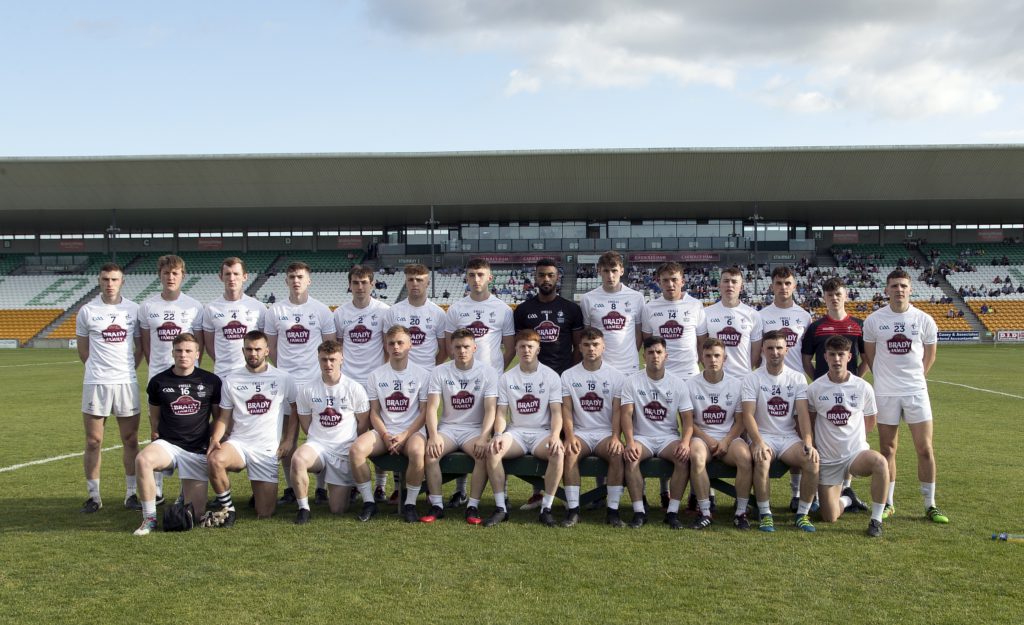 It hardly needs reminding but no Kildare side has won an All-Ireland title at any level since 1965 which conveniently was at under 21 level so this current under 20 side are on the verge of something special when they take on Mayo this weekend.
Incidentally the under 20 grade is in its first year but the old under 21 Championship is a competition that was very kind to Kildare teams as they took home ten provincial titles as well as that sole All Ireland.
Outside of this year the last of those titles came in 2013 with the bunch of that crop now mainstays on the current Senior team and win or lose on Sunday that will be the aim for this group of players.
If you even go back to 2008 when Kildare lost to Kerry in the All Ireland Final to a Tommy Walsh and Kieran O'Leary inspired Kingdom one would have thought that most of  that Glen Ryan managed team would have progressed but apart from Gary White, Eoghan O'Flaherty, Alan Smith, Hugh McGrillen and David Whyte, nobody else made any real significant impact at the top level so nothing can be taken for granted looking ahead to the future.
In saying all that its hard not to get really excited about this current under 20 team who have grown from strength to strength in the last few months.
Two years ago the majority of them won a Leinster Minor title when they defeated Laois in Croke Park but just a few weeks later they were embarrassed by a rampant Kerry team that cruised to the All- Ireland Title with the impressive David Clifford leading the way.
Despite a few notable absentees including Ciaran Kelly, Jack Robinson and Danny O'Sullivan, the bulk of the squad remains the same while some of the new brigade have had a vital role throughout.
The likes of Aaron O'Neill, Ruadhan O'Giollain, Padraig Nash and Darragh Ryan weren't part of that team but they have been crucial to Kildare's success this year thus far.
The Leinster campaign began back in May when a day after the Seniors went down to Carlow, the Under 20's overcame Laois with Brian McLoughlin having a huge impact off the bench before they went down to Meath a week later.
That left them with a must win game at home against Wicklow and they were never in danger as they won by 22 points to finish second in the group and they secured a quarter-final spot in the process.
Two facile wins followed over Carlow and Offaly as they set up a Leinster Final meeting with Dublin.
The Dubs were fancied to account for Kildare but the Lilywhites turned in an inspired performance with Jimmy Hyland leading the way as they took the title.
Familiar foes awaited in the semi-final in Kerry and with the Kingdom without Sean O'Se and David Clifford, Kildare took full advantage and ran out one point winners as they banished a few demons.
Mayo are the opponents at the weekend as a result and both sides path couldn't be more different as while Kildare are very much battle hardened, their opponents have had less than half the games of the Lilywhites as they won a Connacht Title defeating Leitrim and Roscommon before overcoming Derry in the last four.
There is a real sense of unknown among the westerners which could prove dangerous for Kildare but they did meet in the Minor Quarter-Final two years ago with Kildare running out six point winners and while its hard to look back on a game from two years ago, it at least gives them prior knowledge of the opponents.
Mayo's Ross Egan and Ryan O'Donoghue have done the bulk of the scoring thus far for Michael Solan's side so the Kildare defence will need to be on their mettle to shut them out.
Its something Kildare are very much used to though with Mark Barrett, Mark Dempsey and Jason Gibbons and Aaron O'Neill in goal providing a solid base all year.
The rest of the Kildare side isn't too bad either with Captain Aaron Masterson linking with his Newbridge teammate David Marnell well in midfield with their respective games bouncing off each other.
Up front is where the magic really lies though with Jimmy Hyland and Brian McLoughlin proving great trouble to all full back lines with their skill and craft while the guile of Ruadhan O'Giollain, Padraig Nash and Paddy Woodgate play a bit deeper but are no less important.
Its not only about the starting team though as the full compliment of subs has been used by Davy Burke throughout and they have been vital in a number of the games with the likes of Cian Costigan, Shane O'Sullivan and Jack Barrett having a huge impact off the bench.
Davy Burke has done huge work with this side and with the help of Declan O'Toole and Evan McDermott you can see the Confey man's imprint all over the side with their huge workrate.
All in all it's a huge day for the Lilies and one where if they can hit top form they are more than capable of winning.
After the upturn in Kildare football over the last few months it would mark the perfect ending to the year.
Under 20's Path to the Final 
Kildare v Laois – Leinster Championship Round 1
Kildare 1-17 Laois 4-6
Jimmy Hyland 1-6(3f), Brian McLoughlin 0-6(5f), Paddy Woodgate 0-2(1f), Sam Doran 0-1, Niall Murphy 0-1, Darragh Ryan 0-1
Kildare v Meath – Leinster Championship Round 2
Kildare 1-13 Meath 2-11
Jimmy Hyland 1-3 (2f), Brian McLoughlin 0-4 (3f) Paddy Woodgate 0-2, Sam Doran 0-1, Tony Archbold 0-1, Ruadhan O'Giollan 0-1, David Marnell 0-1,
Kildare v Wicklow – Leinster Championship Round 3
Kildare 3-15 Wicklow 0-4
Jimmy Hyland 0-11 (3fs); Padraig Nash 2-0; Brian McLoughlin 1-1; Paddy Woodgate 0-1(f), Stephen Comerford 0-1, Tony Archbold 0-1, Jack Bambrick 0-1
Kildare v Carlow – Leinster Championship Quarter Final
Kildare 4-18 Carlow 0-8
 Jimmy Hyland 0-5 (2f), Aaron Masterson 1-2, Paddy Woodgate 1-1 (1f), Niall Murphy 1-1, Shane O'Sullivan 1-1, Padraig Nash 0-3, Sam Doran 0-2, DJ Earley 0-2 (2 45 f), Darragh Ryan 0-1, Jack Barrett 0-1.
Kildare v Offaly – Leinster Championship Semi Final
Kildare 3-14 Offaly 2-5
Brian McLoughlin 2-2, Padraig Nash 0-3, Jimmy Hyland 0-3 (1f), Paddy Woodgate 1-0, Stephen Comerford 0-1, Cian Costigan 0-1, Tony Archbold 0-1, Niall Murphy 0-1, Aaron Masterson 0-1.
Kildare v Dublin – Leinster Championship Final
Kildare 1-15 Dublin 0-10
Jimmy Hyland 0-8 (0-6f), Tony Archbold 1-1 (1-0 pen), Padraig Nash 0-3, Paddy Woodgate, Brian McLoughlin, Shane O'Sullivan 0-1 each.
Kildare v Dublin – All Ireland Semi-Final
Kildare 1-14 Kerry 1-13
Jimmy Hyland 1-8 (2fs), Brian McLoughlin 0-3 (2sf), Paddy Woodgate 0-2, Aaron Masterson 0-1