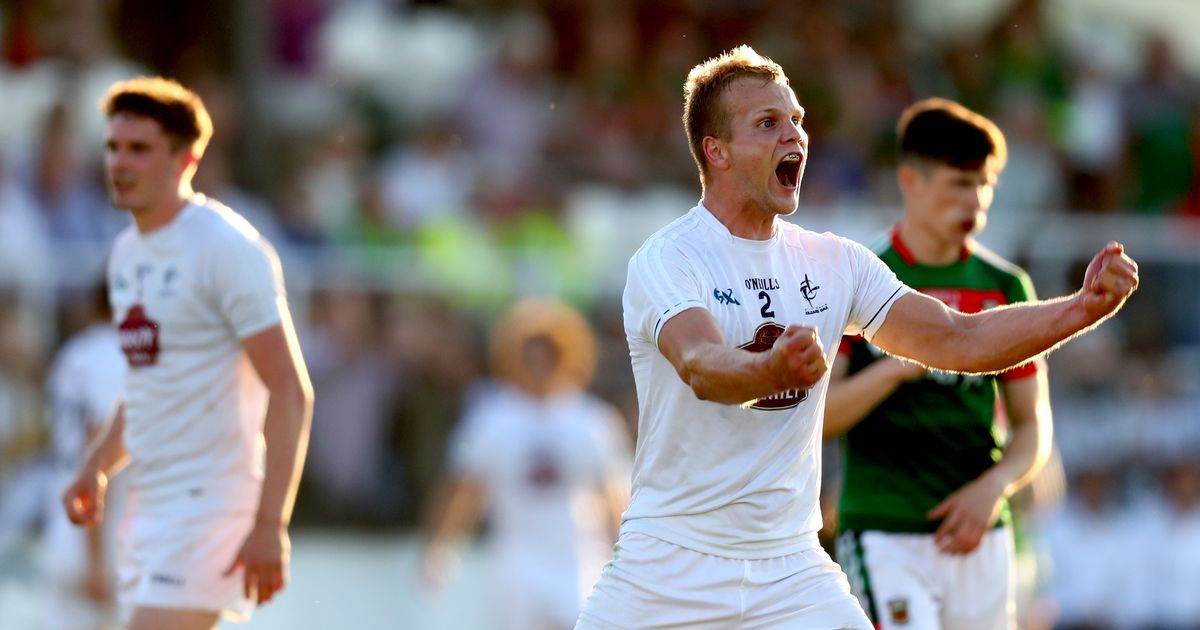 Kildare 0-21
Mayo 0-19
By Robert Cribbin
Kildare produced a performance for the ages as they knocked Mayo out of the All Ireland Championship at a packed St.Conleths Park on Saturday Evening.
For many people it was the Lillywhites biggest championship win in two decades as they got one over a top tier team.
The narrative around the game was dominated by the controversy around the home venue and the furore that surrounded NewbridgeorNowhere but it really seemed to galvanise Cian O'Neill's side as they eked out the victory.
The game was tight all the way through but in un Kildare fashion the team in white managed to see it out with Paul Cribbin, Fergal Conway ,Peter Kelly, Neil Flynn and Eoin Doyle all starring on a historic night.
Stephen Coen kicked Mayo into the lead but after Fergal Conway equalised with an effort from distance, the home side went 0-7 to 0-2 ahead by the end of the first quarter with scores from Neil Flynn, Paul Cribbin, Fergal Conway, Daniel Flynn and Kevin Feely.
Mayo kept their cool though and they reeled in Kildare's lead before the break to go in front with a series of Cillian O'Connor frees as well as a huge point from Paddy Durkan.
Paul Cribbin and Neil Flynn did steady things down though to ensure the teams went into halftime level at 0-9 apiece.
The second half was a real frantic affair and the sides shared early points with Paddy Durkan, Diarmuid Connor and Andy Moran on target for the visitors while Cribbin and Flynn x2 replied in kind for Kildare.
That left the teams at 0-12 apiece but Kildare found another gear as Johnny Byrne with a booming effort, Flynn with a free, Paul Cribbin, Daniel Flynn and Niall Kelly all scored to put Kildare 0-17 to 0-15 in front after Mayo replied with scores from Durkan and O'Connor.
It wasn't long before the 2017 All Ireland finalists were level as a result when sub Eoin O'Donoghue kicked a cracking score to add to another O'Connor free.
There was a real sense of inevitably entering the final few minutes that Mayo would just find a way, but it was a night that Kildare were not going to take no for an answer and they somehow found a will to go ahead again with points from Peter Kelly and Neil Flynn.
Durkan got Mayo back to one but Eamonn Callaghan then almost took the roof of the stand as he knocked over the insurance score to crown a historic night for Kildare football.
Pure euphoria followed at the final whistle as Kildare fans streamed onto the pitch as they really made their "home advantage" count.
Scorers for Kildare: N Flynn 0-8(7f), P Cribbin 0-4, D Flynn and K Feely 0-2 each, P Kelly, E Callaghan, N Kelly, J Byrne and F Conway 0-1 each.
Scorers for Mayo: C O'Connor 0-5f, P Durcan 0-4, A Moran 0-3, J Doherty 0-2, E O'Donoghue, D O'Connor, K McLoughlin and S Coen 0-1 each.
Kildare
Mark Donnellan; Peter Kelly, David Hyland, Mick O'Grady; Johnny Byrne, Eoin Doyle, Kevin Flynn; Fergal Conway, Tommy Moolick; Paul Cribbin, Kevin Feely, Keith Cribbin; Paddy Brophy, Daniel Flynn, Neill Flynn.
Subs used: David Slattery for K Cribbin 47mins, Chris Healy for Brophy 51mins, Niall Kelly for Moolick 54mins, James Murray for Byrne 67mins, Eamonn Callaghan for Doyle 71mins.
Mayo
David Clarke; Chris Barrett, Ger Cafferkey, Keith Higgins; Lee Keegan, Colm Boyle, Paddy Durcan; Diarmuid O'Connor, Stephen Coen; Kevin McLoughlin, Aidan O'Shea, Jason Doherty; James Durcan, Cillian O'Connor, Andy Moran.
Subs used: Donal Vaughan for J Durcan 58mins, Eoin O'Donoghue for Boyle 56mins, Conor Loftus for Doherty 67mins, Cian Hanley for McLoughlin BC 71mins.
Ref: David Gough (Meath)