Electric Ireland Leinster Minor Football Championship
Semi-Final Replay 
Kildare 2-12 Wicklow 1-13
By Robert Cribbin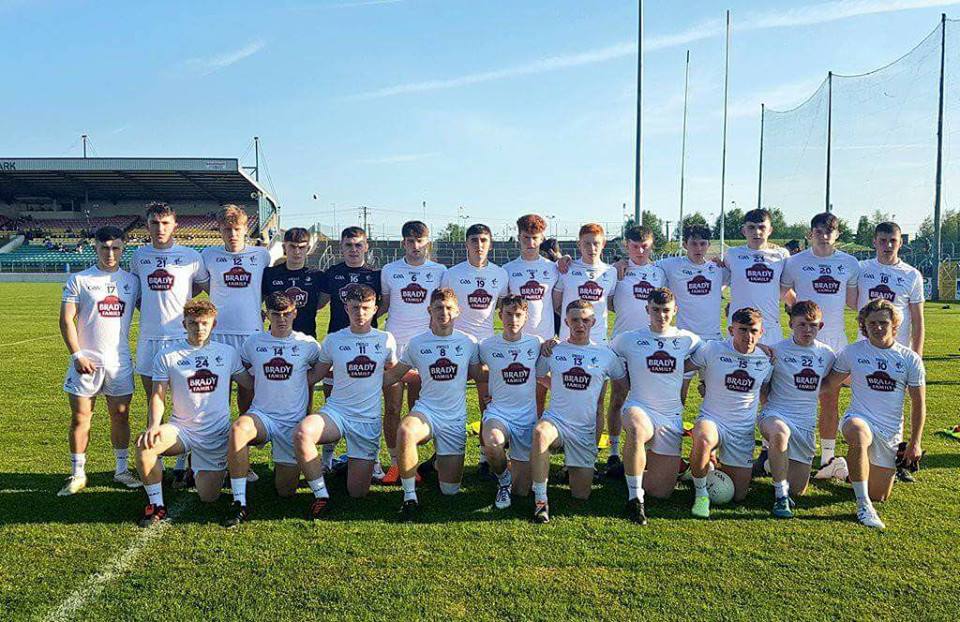 Kildare are into the Minor Football Final after edging out Wicklow by two points in a brilliant game in Aughrim.
After the drama of the original game it looked almost impossible to be repeated but both sets of players certainly did a fine job.
Goals in either half from Muiris Curtin and Sam Morrissey was eventually enough for a Kildare side that had to dig extremely deep to gain the win.
The game was really won in the second half as after Matthew Ging and Eoin Darcy ran riot for Wicklow in the opening half, the dropping of Paddy McDermott as a sweeper did the job as Kildare cut out the threat and a much more solid defensive unit flourished as a result.
Kildare were hanging on at the end as Wicklow poured on the pressure but they will be relieved to have found that extra gear to give them a tilt at a provincial title.
The eagerly anticipated replay was delayed by ten minutes as a bumper crowd made their way into Joule Park.
Kildare had one change from the original game with Eoghan O'Haire replacing Rathangan's Muiris Curtin at corner forward.
When the game did eventually get underway Padraig Carbury's side wasted no time in getting their scores on the board as Liam Broderick kicked an opening minute score from distance.
Wicklow's two pronged threat of Matthew Ging and Eoin Darcy scored 2-11 between them in the drawn game and they proved to be a real threat for Kildare again as Ging brought the sides level with a lovely left footed score from a tight angle.
The first goal in a high quality first half then arrived in the 2nd minute as Eoin Darcy plundered a shot to the net after a John Keogh ball in was flicked to the dangerous full forward via the hand of Ging.
The teams duly exchanged scores between the 4th and 9th minutes with Ging and Jack Smyth sharing points to leave the Garden county with a 1-2 to 0-2 lead.
Alex Beirne had a brilliant chance for a goal a few minutes later when he powered forward after being found in space by Paddy McDermott but his shot could only rattle off the outside of the post.
Ging kicked another fine score to push Wicklow out to a four point lead but Kildare battled back to kick three points on the bounce as Smyth, Sam Morrissey with a free and Nick Jackman all scored to bring the lead down to just a point.
Wicklow did go clear with respective points from Ging and Darcy and if John Ball hadn't saved brilliantly from John Keogh, they would have went further clear.
That put Wicklow 1-5 to 0-5 to the good but Kildare went level in the 29th minute as Sam Morrissey fisted to the net over the hands of Ben Fennell after Alex Beirne found him in space behind the defence.
Wicklow didn't let that goal faze them though and even when Aaron Kennedy equalised for Kildare, a brace of scores from Ging and Darcy gave the home side a 1-7 to 1-6 advantage at the break.
Kildare sprung Muiris Curtin from the bench at the break and he made a huge impact as he scored 1-2 within eight minutes.
The Rathangan man kicked a point out wide in the opening minute of the second half to level up matters before Jack Smyth split the posts two minutes later to give Kildare the lead for the first time in over a half an hour.
Ging who scored eight points throughout then equalised after combining well with Darcy but that would be the last time they would be on level terms as Kildare found an extra gear.
A second half goal was always going to be crucial and it arrived for Kildare in the 36th minute as a dropping Jack Smyth shot fell in the square and Eoghan O'Haire did brilliantly to keep the ball in and punch across for Curtin who palmed to the empty net.
Curtin followed up with a point minutes later as they kicked into a 2-9 to 1-8 lead.
Wicklow then dropped a sweeper back to try and deal with the increasing pressure and they began to get back into things with points from Ging and McDonald.
Wicklow really needed a goal though and they looked to have the perfect chance in the 47th minute when Shaun Cranley hit a shot that looked destined for the corner but John Ball saved brilliantly.
The save gave Kildare the impetus to kick on and scores from Eoghan O'Haire and Alex Beirne pushed them 2-12 to 1-10 ahead entering the final minutes.
To their credit, Wicklow never threw in the towel and they got late points from Ging, Darcy and John Keogh but it wasn't enough as Kildare held out for a two point win on a 2-12 to 1-13 scoreline.
Kildare will now play Meath in the final next Saturday.
Kildare: John Ball; John Lynch, Sean Hill, Jack Hamill; Nick Jackman 0-1, Kevin Kelliher, Paddy McDermott; Liam Broderick 0-1, Marcus Kiely; Sam Morrissey 1-1 (0-1f), Alex Beirne 0-1, Michael McGovern; Eoghan O'Haire 0-2, Aaron Kennedy 0-1, Jack Smyth 0-3. Subs: Daniel Caulfield for Jackman 27 mins, Muiris Curtin 1-2 for McGovern h-t, Padraig Behan for Smyth 52 mins, Drew Costello for O'Haire 61 mins.
Wicklow: Ben Fennell; Fionn O'Carroll, Sam Kearney, Tom Moran, Kevin Quinn, Oisin Cullen, Christopher Grimes, Eoghan Byrne, Sean Doody, Jack Fleming Foran, Craig Maguire, John Keogh 0-1 (0-1f), Matthew Ging 0-8 (0-2fs), Eoin Darcy 1-3 (0-1 45) Cillian McDonald 0-1. Subs: Shaun Cranley for Foran h-t, David Maloney for Maguire 50 mins, David Lawlor for Cullen 58 mins.
Ref: Barry Tiernan (Dublin).