Eirgrid U20 All-Ireland Football Championship Semi-Final
Kildare 1-14
Kerry 1-13
By Robert Cribbin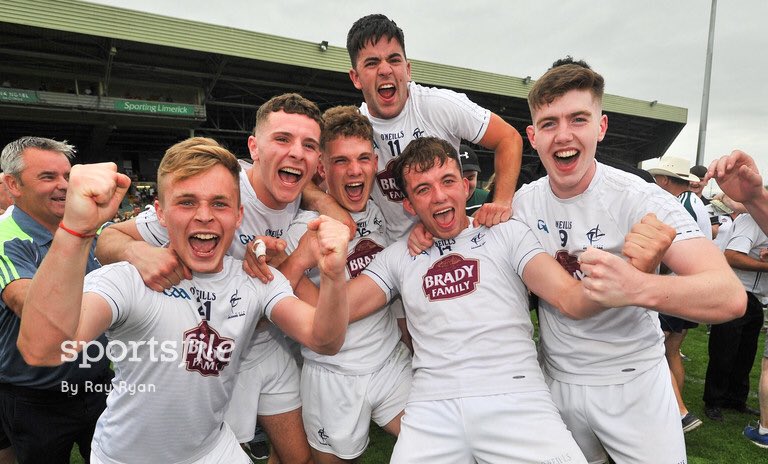 A sensational haul of 1-8 from Jimmy Hyland helped Kildare secure a place in the All Ireland Final after narrowly overcoming a strong Kerry side.
Kildare were immense all over the field and while Hyland will take all the headlines with another man of the match performance, the likes of Aaron Masterson, Jason Gibbons, Brian McLoughlin and Ruadhan O'Giollan should all be applauded for the role they played in the historic win.
Its some turnaround for a Kildare side that suffered a 22 point defeat to the same opposition at Minor level two years ago.
Kildare were the better team throughout and if it wasn't for the concession of a number of frees, the win could have been a bit easier.
Jimmy Hyland scored his goal in the 47th minute and at the time it had the Lillywhites in a somewhat unassailable lead but Kerry produced a stirring comeback that left Kildare hanging on for dear life come the end.
Fiachra Clifford got the first score of the game when he pointed a free off his left foot to edge Kerry in front.
Brian McLoughlin looked to have levelled things up when his long range free looked to be good but referee James Molloy overruled his umpires and Kerry stayed in front.
Kildare did soon overturn the lead though with Jimmy Hyland getting his first point before a patient move resulted in a Paddy Woodgate score from distance.
Kerry looked threatening every time they attacked though and centre back Graham O'Sullivan powered forward to score and bring the teams level at 0-2 apiece.
Mark Ryan then kicked Kerry into the lead as he got on the end of a patient move which ended with the combination of David Shaw and Donal O'Sullivan finding the midfielder in space.
Kildare were growing in confidence the longer the half elapsed though and Hyland in particular was beginning to cause trouble for the Kerry defence and he scored to retake the lead when taking advantage of poor Kerry kickout after an earlier Brian McLoughlin free had brought the teams level.
Clifford duly added his second free of the half in response but Kildare were playing with a real swagger and they kicked three points on the bounce between the 11th and 14th minutes with an excellent brace of scores from Hyland made all the better by an Aaron Masterson score from 45 yards out.
Kildare were showing they were a real threat on the attack but so were Kerry with another Clifford free narrowing the gap while Eddie Horan had an excellent chance for goal but Aaron O'Neill stood tall to deny the Scartaglen man.
McLoughlin was winning every ball played into him and he sold the Kerry full back an exceptional dummy before scoring off his trusted left point and a fifth Hyland point looked to have Kildare in command as they led 0-9 to 0-5.
Kerry were the All Ireland champions at the equivalent minor grade two years ago and despite being without the star quality of Sean O'Se and David Clifford they still possessed plenty of class and they had the lead back to one point by the halfway point as Clifford added another brace of frees before Bryan Sweeney scored from play as Kildare held a tentative 0-9 to 0-8 lead after a very enjoyable opening period.
Paddy Woodgate kicked Kildare two ahead when a quick Aaron Masterson free went into his grasp and he shot over on the turn.
Unfortunately for Davy Burke and his selectors though half-time sub Shane O'Sullivan was injured in the process of winning that free and he had to be replaced just thirty seconds after coming on with a shoulder injury.
A scoreless ten minutes soon followed as both teams were guilty of missing scoreable opportunities with Clifford and Donal O'Sullivan missing routine frees for the Kingdom with Hyland and Ruadhan O'Giollan off target for Kildare.
Kerry ended the barren period with a Donal O'Sullivan free leaving just the minimum between the sides as Kildare held a 0-10 to 0-9 lead.
Kildare were about to hit their best patch of the game however as they hit 1-3 without reply at such a crucial stage.
Two Hyland points either side of a McLoughlin score powered Kildare into a 0-13 to 0-9 lead but the game winning score soon arrived in the 47th minute.
A poor short free kick by Kerry full back Stefan Okunbor went straight to half back Ruadhan O'Giollan and he powered past a few Kerry defenders before offloading to the sharpshooter Hyland who rounded Brian Lonergan to push Kildare seven points clear.
Hyland scored another free a few moments later but from there it was all hands on the pump as Kerry threw everything at Kildare.
A Donal O'Sullivan free reduced the lead to six while sub Michael Potts scored a super goal on the run.
Further points from Dara Moynihan, Cormac Linnane and Sean O'Leary in stoppage time got Kerry within one and they looked set to force an equaliser to force extra time.
Alas Kildare's ferocious defending kept them out and when Sean O'Leary dropped a loose pass late on, the Kerry goose was cooked as Kildare booked a place in the All Ireland Under 20 final against Mayo in Croke Park in a couple of weeks time.
Kildare: Aaron O'Neill; Mark Dempsey, Mark Barrett, DJ Earley, Stephen Comerford, Jason Gibbons, Ruadhan O'Giollan, Aaron Masterson 0-1, David Marnell, Darragh Ryan, Padraig Nash, Tony Archbold, Jimmy Hyland 1-8 (0-2fs) Brian McLoughlin 0-3 (0-1f), Paddy Woodgate 0-2. Subs: Shane O'Sullivan for Marnell h-t, Mark Glynn for O'Sullivan 35 mins, Jack Bambrick for Ryan 37 mins, Cian Costigan for Nash 44 mins, Sam Doran for Woodgate 54 mins, Niall Murphy for Hyland 62 mins.
Kerry; Brian Lonergan, David Naughton, Stefan Okunbor, Michael Reidy, Mike Breen, Graham O'Sullivan 0-1, Daniel O'Brien, Mark Ryan 0-1, Diarmuid O'Connor, Fiachra Clifford 0-5 (0-5fs), Eddie Horan, Dara Moynihan, Donal O'Sullivan 0-2 (0-2fs), Bryan Sweeney 0-1, David Shaw. Subs: Sean O'Leary 0-1 for Naughton 36 mins, Brian Friel for Horan 44 mins, Cormac Linnane 0-1 for Shaw 51 mins, Michael Foley for Breen 52 mins, Michael Potts 1-0 for Clifford 55 mins, Cian Gammell for Ryan 57 mins.
Ref: James Molloy (Galway)