All-Ireland Senior Football Championship 
Quarter Final Group 1 – Phase 1 
Monaghan 0-15 Kildare 1-10
By Robert Cribbin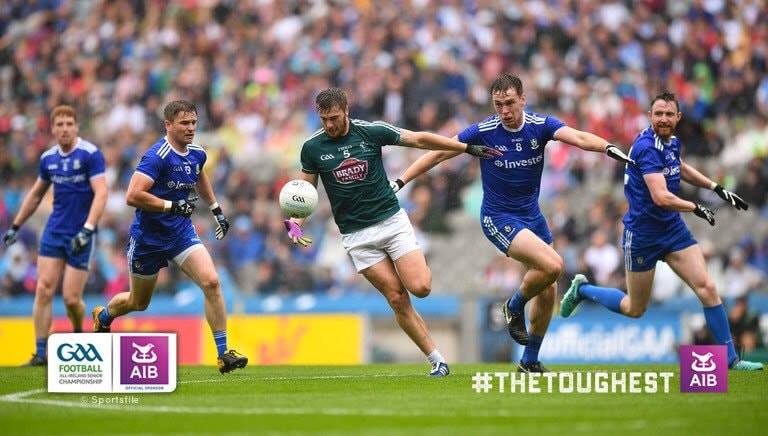 Kildare went down to a narrow but disappointing defeat at the hands of Monaghan in the opening round of the Super 8s at Croke Park.
In what was a largely tactical game Monaghan's extra nous and experience proved valuable in helping them get the victory.
Kildare looked threatening when they could get the ball in to their full forward line with the two Flynn's doing a lot of damage which was portrayed by Daniel's opening half goal but more often than not Monaghan were able to get a stranglehold and they wore the Lillywhites down.
Monaghan got great joy out of runners from deep with Karl O'Connell, Niall Kearns and Conor McCarthy proving effective and in McManus inside they always had an ace poacher.
Kildare looked tired at stages and it will be interesting to see how Cian O'Neill gets them up for the visit of Galway.
Kildare lined out as per programme while Dessie Mone came in from the start for Jack McCarron on the Monaghan side and the experienced Clontibret man played in a deeper role.
Before the game had even begun there was plenty of tussling among players all over the pitch including at midfield for the throw up.
When the game did begin Kildare were quickly into their stride with Neil Flynn slotting a free from distance between the posts.
Monaghan replied well and within minutes they were in front as dangerman Conor McManus kicked over the equaliser after latching onto a throw ball inside the Kildare 21 yard line before Niall Kearns scored excellently with a curling shot from distance after fellow midfielder Darren Hughes found him in space.
Kildare were calm and composed though and got the first goal of the game in the 5th minute as Daniel Flynn in his own unique style powered clear of the Monaghan defence bouncing off a few defenders and dinked a wonderful shot over the head of Rory Beggan and in off the underside of the crossbar as Kildare moved into a 1-1 to 0-2 lead.
The Farney county then kicked three points on the bounce between the 7th and 11th minutes with McManus on the double from a free and play while Conor McCarthy also found the target as he split the posts after getting loads of room in the scoring zone.
After Neil Flynn kicked a free off the outside of the post his namesake Daniel had a great chance to get his second goal when Johnny Byrne found him free inside but his left footed shot was well touched over the bar by Rory Beggan.
Owen Duffy received a black card for Monaghan moments later for an incident off the ball but Malachy O'Rourke's side were really beginning to get on top particularly in defence and points from Rory Beggan via a 45 and a fine Karl O'Connell effort left the northerners with a two point lead.
The sides then exchanged scores for the rest of the half with O'Connell and Conor McCarthy scoring from play for Monaghan and while Shane Carey also scored, he really could have found the net as an excellent counter attack which included McCarthy and Ryan McAnespie found him in on goal but his shot was too high.
Kildare did keep in touch by half time with Tommy Moolick scoring a fine point from range with Neil Flynn adding a few more scores including a fine one from play right on the whistle as Monaghan went into the break with a 0-10 to 1-5 lead.
The story of the start of the second half was about missed chances as both Conor McManus and Neil Flynn missed fairly routine frees while Darren Hughes had a good chance from play for Monaghan but after being surrounded by three players he shot wide under fierce pressure.
Kildare did get the first point of the second half to reduce the lead to just a point when Fergal Conway kicked a fine point on the run.
It was the only score in the first ten minutes of the half though as a series of off the ball incidents meant the game had a real scrappy look to it.
Things weren't helped when Neil Flynn had a bad collision with a Monaghan player and play was held up for a number of minutes.
Neil Flynn then got the equaliser in the 45th minute as he won the ball inside and after beating his man he kicked a brilliant shot off his left foot.
Monaghan were proving to be very wasteful in front of goal though and after hitting six wides in only thirteen minutes at the beginning of the half they finally got on the scoresheet when Karl O'Connell got his third point as he palmed the ball over after he originally had a goalbound effort well saved by Mark Donnellan.
Johnny Byrne kicked Kildare level with a well taken score on the break in the 50thminute before Kevin Feely and Kieran Duffy shared scores to leave it at 0-12 to 1-9 going down the final stretch.
Monaghan retook the lead with a Darren Hughes score wide out with six minutes remaining and they wouldn't be headed again.
Kildare had plenty of chances to get level but they couldn't take them as basic errors were letting them down dearly.
McManus was on the periphery for a lot of the game but when he was needed he stood up to kick what turned out to be the winner as he squeezed a shot between the posts from the tightest of angles.
Eamonn Callaghan did hit back for Cian O'Neill's side with a score after coming off the bench but they were unable to force a chance to get level and after Monaghan played keep ball for a number of minutes goalkeeper Rory Beggan slotted home a long range free to give Monaghan a vital win on a 0-15 to 1-10 scoreline.
Kildare will now go into the game against Galway next weekend in Newbridge knowing they will have to get a win.
Monaghan: Rory Beggan 0-2 (0-1 f, 0-1 45); Kieran Duffy 0-1, Drew Wylie, Ryan Wylie; Dessie Mone, Fintan Kelly, Vinny Corey, Karl O'Connell 0-3; Niall Kearns 0-2, Darren Hughes; Ryan McAnespie, Shane Carey 0-1, Owen Duffy; Conor McCarthy 0-2, Conor McManus 0-4 (0-1f). Subs: Paudie McKenna for Owen Duffy (Black card) 16 mins, Jack McCarron for Kelly 47 mins, Kieran Hughes for McKenna 59 mins, Dermot Malone for Carey 66 mins.
Kildare; Mark Donnellan; Peter Kelly, David Hyland, Mick O'Grady; Johnny Byrne 0-1, Eoin Doyle, Kevin Flynn; Kevin Feely 0-1 (0-1f), Tommy Moolick 0-1; Fergal Conway 0-1, Paul Cribbin, Keith Cribbin; Neil Flynn 0-4 (0-2fs), Daniel Flynn 1-1, Paddy Brophy. Subs: Niall Kelly for P.Cribbin 45 mins, Chris Healy for Brophy 49 mins, David Slattery for K.Cribbin 58 mins, Eamonn Callaghan 0-1 for Moolick 68 mins, Cathal McNally for N.Flynn 71 mins.
Ref; Anthony Nolan (Wicklow)