Allianz Football League 
Division 2 – Round 1 
Kildare 0-14 Armagh 1-11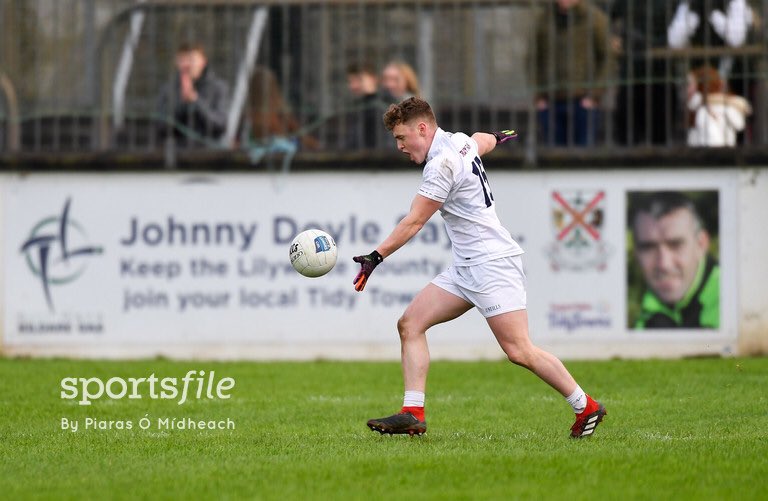 Jimmy Hyland was the saviour as his last minute free rescued a draw for Kildare against Armagh in the opening game of the Allianz Football League in St. Conleth's Park.
Armagh looked primed for victory when Stefan Campbell goaled in the 49thminute but despite the 1-10 to 0-8 lead, Kildare battled back.
Kildare who were only relegated from Division 1 last year bravely fought out of the hole and six points in the last quarter got them a deserved draw.
Armagh looked very threatening early in the game and Stefan Campbell found his way inside the Kildare rear-guard on the end line but despite finding the net the corner forward took too many steps and a free out was awarded.
Kildare responded with a lovely score from Conor Hartley after Kevin Feely released a pass out to him in space.
Kieran McGeeney's men then began to find their groove and they kicked the next three points with Campbell, Jarlath Og Burns and Jamie Clarke all finding the target.
Armagh then had an excellent chance to push clear on the scoreboard as Greg McCabe found Connaire Mackin free inside but the corner backs effort could only rebound off the crossbar with Mark Donnellan beaten.
At this stage, Kildare lost valuable midfielder Kevin Feely to a bad head injury but his replacement Fionn Dowling wasted no time in making a mark as he kicked an excellent point from distance before Jimmy Hyland kicked a free to bring the sides level halfway through the half.
Armagh did manage to hit back with a point from play by Niall Grimley and a well taken free courtesy of Rory Grugan.
It was Kildare who started to gain a foothold for the rest of the half however as Eoin Doyle fisted a point when a goal may have been on before Ben McCormack swivelled into some space for himself and found the target.
Kildare then retook the lead for the first time since the 3rd minute with Adam Tyrrell converting a free but the home side couldn't take that advantage into the break as Clarke hit back with Armagh's first point in fifteen minutes as the teams remained deadlocked at 0-6 apiece.
Whatever slight wind there was Kildare were playing with the aid of it in the second period and they quickly made immediate use of it with Dowling kicking his second point.
Armagh weren't for giving in though with points from Grimley and Jemal Hall edging them back in front again.
Hyland equalised with a well taken effort from out wide but Armagh were beginning to motor and they soon hit Kildare for 1-2 in quick succession.
Jamie Clarke got the ball rolling with a beautiful effort on the turn and in between a Niall Grimley free, Stefan Campbell powered forward from a ball into space by Rory Grugan and the ace sharpshooter buried a shot into the bottom corner as the Orchard County moved into a 1-10 to 0-8 lead.
Kildare then replied with two well taken points from play by McCormack and Hartley as the scoreline was down to 1-10 to 0-10 entering the final quarter.
Fergal Conway was making his first appearance for Kildare of the season and he reduced the lead to two points with a flighted effort and substitute Aaron Masterson brought that deficit down further in the 66th minute with a booming score from distance.
Armagh had a glorious chance to put the game beyond any doubt when Joe McElroy broke free but he powered a shot wide of the goal.
Hyland then kicked Kildare level at the beginning of stoppage time but Armagh looked like they had snatched victory with a Rory Grugan free.
Kildare weren't to leave empty handed though with Hyland kicking his third point from a free off his weaker foot with the last kick of the game as the teams had to settle for a draw
Scorers for Kildare: Jimmy Hyland 0-4 (0-3fs), Conor Hartley 0-2, Fionn Dowling 0-2, Ben McCormack 0-2 Eoin Doyle 0-1, Adam Tyrrell 0-1 (0-1f), Fergal Conway 0-1, Aaron Masterson 0-1.
Scorers for Armagh: Stefan Campbell 1-1, Niall Grimley 0-3 (0-2f), Jamie Clarke 0-3, Rory Grugan 0-2 (0-2f), Jemar Hall 0-1, Jarlath Og Burns 0-1.
Kildare: Mark Donnellan; Mark Dempsey, David Hyland, Mark Hyland, James Murray, Eoin Doyle, Keith Cribbin, Kevin Feely, Fergal Conway, Conor Hartley, Adam Tyrrell, Eoghan O'Flaherty, David Slattery, Ben McCormack, Jimmy Hyland.
Subs used: Fionn Dowling for Feely 10 mins, Aaron Masterson for O'Flaherty 52 mins, Cian O'Donoghue for M.Hyland 59 mins, Jason Gibbons for Hartley 60 mins, Padraig Nash for Tyrrell 68 mins.
Armagh: Blaine Hughes; Connaire Mackin, Aaron McKay, James Morgan; Mark Shields, Aidan Forker, Greg McCabe; Stephen Sheridan, Niall Grimley; Jemar Hall, Rory Grugan, Ryan McShane; Stefan Campbell, Jarlath Og Burns, Jamie Clarke.
Subs used: Rian O'Neill for Og Burns 47 mins, Joe McElroy for Hall 59 mins, Jason Duffy for McShane 64 mins, Niall Roland for Forker 72 mins.
Ref: Paddy Neilan (Roscommon)
Match Report: Robert Cribbin (Kildare Now)
Photo: Piaras Ó Mídheach, (Sportsfile)