The Kildare Minor Football team are the 2019 Electric Ireland Leinster Minor Football Champions after a 2-21 to 1-19 victory over Dublin in a thrilling contest in Pairc Tailteann, Navan today (Saturday 6th July).
Congratulations to the team & management on this fantastic achievement, the players, management & backroom team members are a credit to their clubs & the county.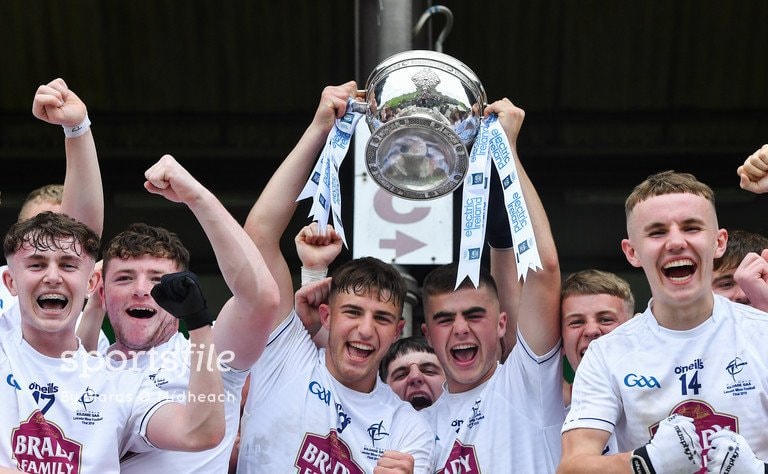 Kildare defeat Dublin in Leinster Minor Football Final
Electric Ireland Leinster Minor Football Championship Final
KILDARE 2-21 DUBLIN 1-19 (AFTER EXTRA-TIME)
By Paul Keane at Pairc Tailteann, Navan
Kildare are Electric Ireland Leinster minor football champions for the ninth time after edging an epic extra-time encounter in Navan with a character laden display.
Inspired by Aaron Browne and free-taker Eoin Bagnall, who struck 1-7 each, Kildare came good with extra-time goals from the duo to secure victory in a marathon game that ran to almost 100 minutes in total.
Kildare thought they'd done enough to secure their fourth provincial title since 2013 in normal time when they led by a point but Fionn Murray's 64th minute equaliser for Dublin forced extra-time.
A powerful young Kildare side got better as the game went on and ultimately overwhelmed Dublin in the extra 20 minutes with 61st and 73rd minute goals from Bagnall and Brown getting the job done.
Click on the link below to read the full report on the Official GAA website:
https://www.gaa.ie/football/news/kildare-defeat-dublin-in-leinster-minor-football-final/
Kildare have beaten Dublin in the Leinster Minor Football Final! Watch the Full-Time highlights here on GAANOW. pic.twitter.com/aYG8vVeQ3h

— The GAA (@officialgaa) July 6, 2019
Aaron Browne with a nicely worked point for @KildareGAA pic.twitter.com/M237kzhoDd

— The GAA (@officialgaa) July 6, 2019
Shane Flynn puts the head down and scores a nice score for @KildareGAA pic.twitter.com/ukfIaaTMZw

— The GAA (@officialgaa) July 6, 2019
Dublin lead Kildare by the minimum at the break in the Leinster MFC Final! Watch the Half-Time highlights here on GAANOW. pic.twitter.com/xk1qtwmFbz

— The GAA (@officialgaa) July 6, 2019
Aaron Browne with a superb point for @KildareGAA! Could prove to be vital in the end. pic.twitter.com/2FwLdCeZhE

— The GAA (@officialgaa) July 6, 2019
Eoin Bagnall gets a goal for @KildareGAA in extra time! pic.twitter.com/iIPOteAJjK

— The GAA (@officialgaa) July 6, 2019
Aaron Browne buries it into the back of the net for @KildareGAA !! pic.twitter.com/hmvygIdXNz

— The GAA (@officialgaa) July 6, 2019
Kildare are Leinster Minor Football Champions for 2019! pic.twitter.com/x4ijgxbVpo

— The GAA (@officialgaa) July 6, 2019