Under 17 Leinster Special Football 
Round 1
Kildare 2-12
Carlow 1-10

The Kildare Under 17 team got off to a winning start in their Leinster campaign with a 2-12 to 1-10 victory over Carlow in Netwatch Cullen Park.
Kildare started brightly, dominating the first fifteen minutes of the game. DJ Earley opened the scoring with a pointed free in the 7th minute followed by a goal from full forward Billy Maher. Centre half forward Paidi Behan kicked an excellent point from play in the 9th minute before Kildare were awarded a penalty that Billy Maher decided to kick over the bar. Kildare were dominating the game and Captain Justin Reilly put them into a 12 point lead after he made a great run to beat the Carlow goalkeeper for Kildare's second goal.
Carlow replied with two quick points but Kildare were back in control with Billy Maher, DJ Earley and Adam Steed adding points. Carlow kicked their third point in the 27th minute before Billy Maher pointed from a free to leave a half time score of 2-07 to 0-03.
Carlow were first to raise the white flag in the second half but Kildare replied instantly with a great point from Sam McCormack. Carlow had a great goal chance brilliantly saved by Kildare goal keeper Eric Evans before both teams traded 6 points between them over the next twenty minutes to leave nine points between the teams with 10 minutes left to play. Carlow refused to give up and scored a much needed goal in the 59th minute followed by two points to leave four points between the teams with the game now in injury time. Paidi Maher kicked his third and final score of the game to leave a final score of 2-12 to 1-10  in favour of Kildare.
Kildare: Billy Maher 1-04, Justin Reilly 1-00, Paidi Behan 0-03, DJ Early 0-02, Adam Steed 0-01, Sam McCormack 0-01, Mark Cully 0-01.
Substitutions:
Cian Powell for Conchur O'Giollain
Karl Hartley for James Ebbs
Oisin Byrne for DJ Earley
Alex Beirne for Jack Doyle
Chris O'Mahony for Sam McCormack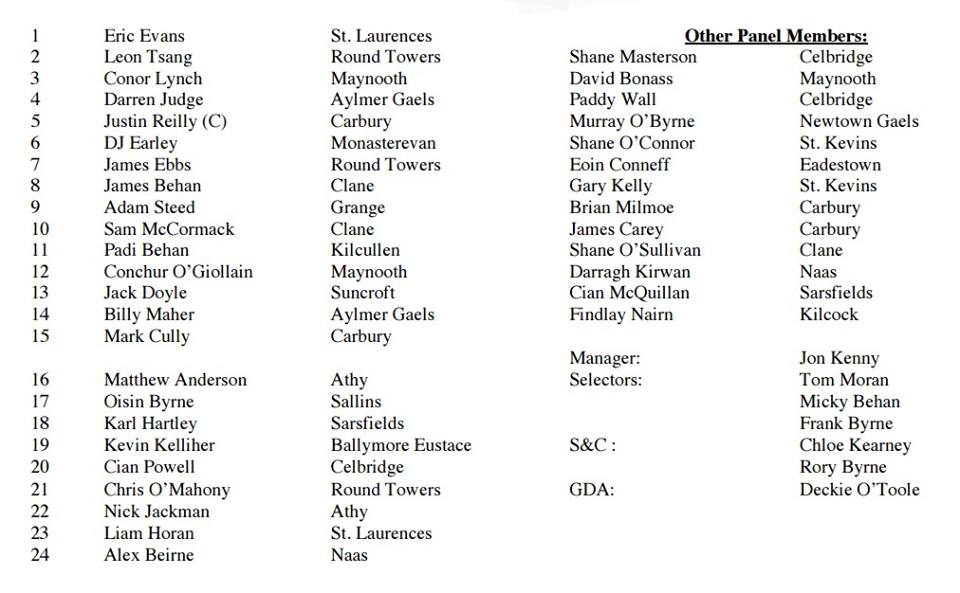 Thanks to Tom Horan for the photos from the game: