GAA's HEALTHY CLUB PROVINCIAL ROADSHOW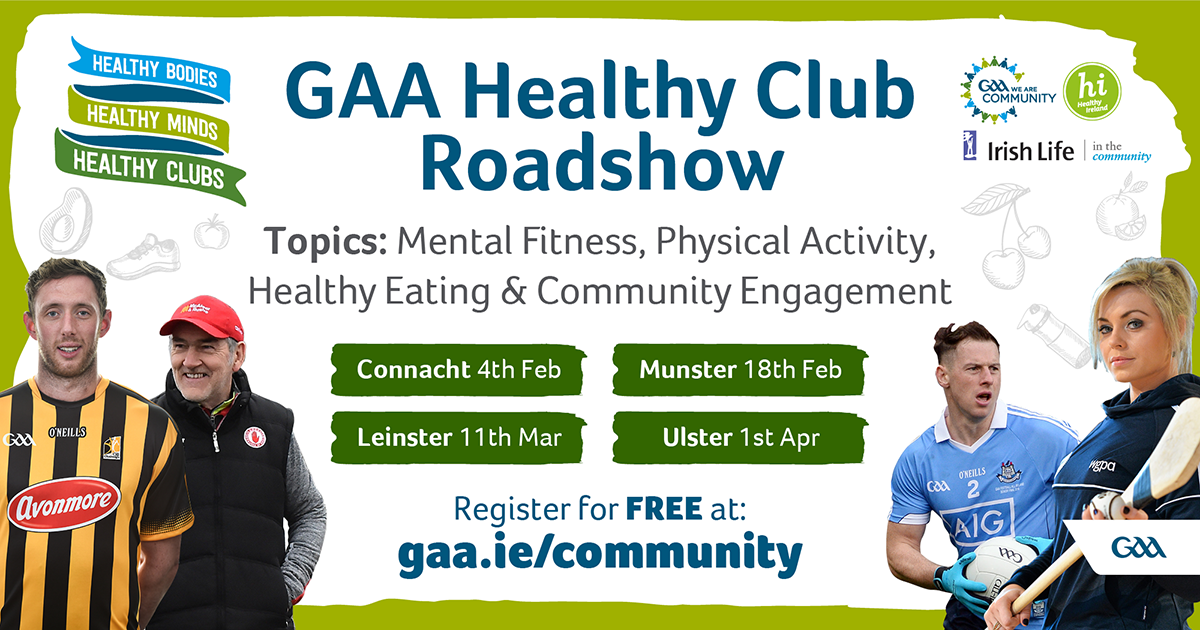 The GAA is delighted to launch the next stage of its Healthy Clubs Project (HCP) – and are encouraging more GAA clubs get involved to support communities in pursuit of better physical, social, and mental wellbeing. Clubs can learn more at the GAA Healthy Club Roadshows – see dates and venues below.
60 clubs – at least one in each county – are currently engaged in Phase 2 of the HCP, building on the pioneering efforts of the 16 clubs that completed Phase 1. Responding to identified needs amongst their memberships and communities, the clubs are engaged in health promoting campaigns and programmes addressing such interesting and important topics as: health eating, smoke-free clubs, emotional wellbeing and mental fitness, physical activity opportunities for non-playing members, engaging older community members, youth development, gambling, drug, and alcohol awareness, heart health, suicide awareness, and even blood donation.
While GAA clubs have always played an important role in supporting the health of its members and communities, the Healthy Clubs Project (HCP) aims to bring this positive influence to a new level.
In order to increase awareness about the positive potential of the HCP, and the exceptional work being undertaken by our 60 ground-breaking Phase 2 Clubs, we're hitting the road this Spring for four provincial Healthy Club Roadshows designed to inspire Healthy Club heroes and champions around the county.
To register for a Healthy Club Roadshow click on one of the links below:
NOTE: You can only attend the provincial event that you club is located in and numbers per club are limited to four. All events are over-12 and free of charge with a healthy lunch provided by Aramark.
The roadshows will feature fascinating contributions from four renowned ambassadors, each one selected to bring to life experiences that have influenced their GAA careers and lives. These are:
Philly McMahon – emotional wellbeing and mental fitness

Anna Geary – healthy eating and health promotion

Michael Fennelly – physical activity

Mickey Harte – community engagement and support
One of the most common questions we are asked by clubs interested in enhancing the health and wellbeing of their members is what can we do and where do we start? The roadshows aim to help answer those questions and fire up the imagination of anyone interested in getting their club involved in Phase 3. In addition to the ambassador's contributions, four Healthy Clubs will, at their respective provincial event, share some of the exceptional work they are undertaking under the four areas of work outlined above.
The HCP primary interest is about making every club a hub for health, and that everyone's experience of their local GAA club will be positive and health-enhancing.
The HCP is run in partnership with the HSE, Healthy Ireland, the PHA (NI), and Irish Life. The latter's generous corporate social responsibility investment has allowed the HCP grow to its current level, and means we can bring these four roadshow events to you free of charge.