COUNTDOWN: Kildare Senior Football Fight Night
Time Bar + Venue, Naas
Saturday, December 10th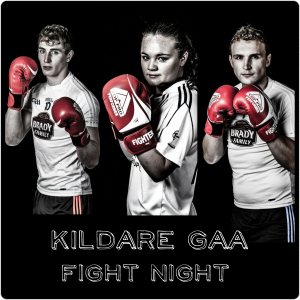 With only days remaining to the Christmas Event of the Year, the Kildare Senior Football Fight Night, training is being tapered down and tensions are running high, as the match-ups have been finalised and everyone knows who they will be facing when they step into the ring next Saturday Night, December 10th, in Time Bar + Venue, Naas @ 1930hrs. This Ring Wars Event promises to be a high octane, adrenalin-fuelled night of 'friendly warfare' and 'unapologetic focused aggression' as Senior Footballers from a variety of clubs across the county will battle it out to be 'King of the Ring' in their individual dual. In addition to the Men's Senior Football Team, 3 members of the victorious All Ireland winning Kildare Ladies Football Team (Rachel Reidy, Tara Hallinan & Mary Hulgraine) have been training with the men for the last 9 weeks with 2 selected to compete in this Fight Night Event to add to a spectacular feast of strength, endurance, power, speed, agility and fearlessness in the ring.
Under the expert instruction of Ryston Boxing Club Coaches Tom McDermott, Luke Connors, Dave Molloy and Eric McDonnell, this group of Kildare Footballers have been taken out of their comfort zone and are facing their biggest fears in an unfamiliar battleground, the Boxing Ring. As Mike Tyson once famously said, "Everyone has a plan [in the ring) until they get punched in the mouth" and that indeed is the biggest challenge facing these warriors next Saturday night. With the generous support of Elvery's Sports, each player has been supplied with their own individual boxing kit, complete with boxing gloves, wraps and a skipping rope – no doubt some will be using this to great effect with secret training sessions away from the group workouts.
This event will be a vital fundraiser for the Kildare Senior Football Team and speaking last weekend 7 days out from the event, Manager Cian O' Neill said "this has been a great experience for all the players and we in the Management are extremely proud of everyone involved, including Rachel, Tara and Mary, who have put in a savage effort over the course of the last 9 weeks. This period of training has taken everyone out of their comfort zone in terms of the type of training that they are all used to, but the benefits are huge for their own game in terms of general fitness of course but equally important their footwork, hand speed, evasion skills and ability to make and take contact. One thing we cannot forget is the hard edge, the physical and mental toughness that you need to survive in the ring – that's the real bonus of this Fight Night experience. Add to that the craic and banter that forms part of every single session in Brady's Gym and Ryston Boxing Club and it really has been a fantastic experience".
O' Neill signalled extra praise to his youth brigade who have had a busy winter period, "We have quite a young squad this year and this brings with it the challenge of balancing and monitoring training workload very carefully, particularly with College and Club (U/21 and Leinster Club) commitments. But the dedication of this group to their Boxing Training has been outstanding and they are all looking forward to the event. For example, Rachel and Tara are both playing O' Connor Cup with their colleges, yet rarely miss a session. Darren Maguire has an exam next Saturday afternoon, yet will rush down from UCD to ensure he is there to fight that night. Con Kavanagh and Conor Hartley only joined the Squad 3 weeks ago after their Leinster Club Campaign ended and they were eager to join the action next Saturday night so I think a huge amount of credit needs to go to this young group of players for their dedication to the squad and also to their club/college demands".
As official Hotel Partners to the Senior Footballers, and generous Co-Sponsors of this event, the Osprey Hotel and Time Bar + Venue will be offering 2 bespoke packages for groups attending the night. The first option is a Pre-Event Dinner Package in the recently redesigned Brasserie Restaurant that is ideal for couples and small groups while the 2nd option is ideal for Christmas Parties and large groups where a designated area can be set aside in the venues with the option of finger food provided. For further enquiries regarding these offers, contact the Osprey Hotel Events Department at events@osprey.ie.
TICKETS
Tickets for the event are €20 and are available to buy from players, management and backroom members of the Senior Football Team, as well as from Co. Board and Club Kildare Official all week. Tickets are also available online at https://www.eventbrite.ie/e/kildare-senior-football-team-fight-night-tickets-29730567929. Tickets can be purchased at the door on the night but get there early as doors close at 2000hrs and entry to the After-Party in the Nightclub is strictly limited to those attending the Fight Night Event.
You can find regular updates, photographs and video footage of training sessions on the Kildare Senior Football Fight Night Facebook page (https://www.facebook.com/Kildare-Senior-Football-Team-Fight-Night-989761691063167/).