Poc Fada 2017 was held in Naas Racecourse last night, and despite the inclement weather early in the evening the event was very well supported. A huge thank you to all of the volunteers who went round the course as score keepers and spotters! Once again there were over 30 participants across the four categories. Congratulations to all of the winners. There will be a special presentation for the Under 16 Boys and Senior Men at half time during the Senior Hurling Final in October.
Under 16 Girls
1. Sarah Doyle Ryan (Athy)
2. Abbey Tarrant
3. Áine Harrington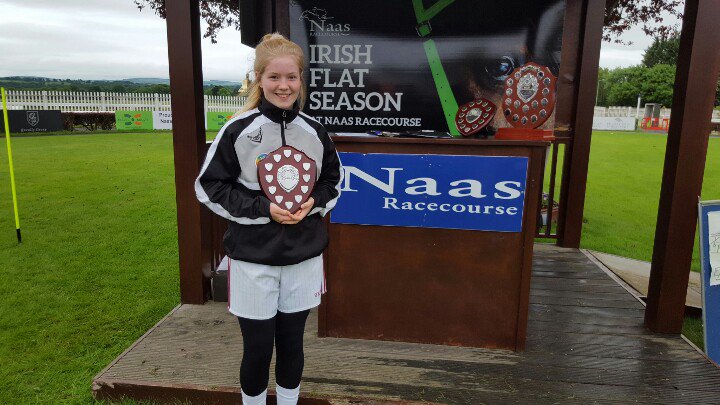 Under 16 Girls Winner – Sarah Doyle Ryan (Athy)
Under 16 Boys
1. Liam Dempsey (Éire Óg Corrachoill)
2. Sean Burke (Naas)
3. Drew Costello (Ardclough)
Under 16 winner – Liam Depmsey (Éire Óg Corrachoill)
Senior Ladies
1. Deirbhile Byrne (St. Laurence's)
2. Holly Tynan (Ardclough)
3. Louise McMullen (Moorefield)
Senior Men
Diarmuid Cahill (Coill Dubh)
Damien Byrne (Coill Dubh)
Stephen O'Brien (Maynooth)
Senior Men Winner – Diarmuid Cahill (Coill Dubh) with the Gearóid Ó Tíarnáin Trophy
Father and son Damien and Paul Byrne from Coill Dubh competing in the Senior and Under 16 categories
Luckily there weren't too meany sliotars lost in the meadow last night!